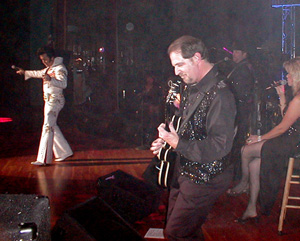 Randy Stockum, (sometimes called "Rockem") by friends, has been playing guitar since the age of 13. He has been known for 20 some years as THE guitarist to call on for Elvis Impersonators throughout the Southwest. His "On Target" renditions of Elvis Presley's own guitarists, SCOTTY MOORE and JAMES BURTON led Texas Legend and Guitar Virtuoso, BUGS HENDERSON to say, "You hit the nail on the head" when playing Elvis' music.
Of course as with all musicians, these are just 2 of Randy's guitar stylists he's idolized that have helped influence and create Randy's own style. MARK FARNER of GRAND FUNK RAILROAD was the guitarist that made me initially pick up a guitar and decide that was what I would do for the rest of my life. Other major influences would have to be JOHN FOGERTY of CREEDENCE CLEARWATER, JIMMY PAGE , FREDDIE KING, and really almost everybody who plays with conviction and honesty.
Currently Randy is performing with 2 bands, JAMES L. WAGES & FEVER, and The EL KABONGS, an original band that allows Randy to feature many of the songs he's written as well as the songs of his fellow members. "We have essentially 4 Very strong song writers in this band and it's a Very creative environment to work in. The other members in the band currently are RONNIE LEE, on vocals, RON KARIS, guitar, bass and vocals, RICHARD WHITTLE, bass, guitar and hammer dulcimer, and STEVE CHOATE, drums, vocals, guitar and mandolin. All of the members are multi-instrumentalists and Randy himself additionally plays drums, bass and keyboards on their recordings.
Randy along with Ron Karis and Ronnie Lee also run and operate KIT KAT STUDIOS, a demo recording facility in Euless, Tx. "It allows us the opportunity to do quite a bit of recording ourselves as well as for others looking for an inexpensive studio to record in.
Randy says his Greatest achievement in life is his son, LORNE TAYLOR STOCKUM, "who constantly amazes me. He is everything I never was and then some. I have been Blessed many times over in my life, though sometimes I didn't see it at the time. I have a GREAT Family and even though I currently do not have a wife, I find a lot of Love from the people who are in my life currently. My real life family and the bands I work with are ALL my family. YES,.. I am TRULY Blessed!"